Flying in instrument meteorological conditions (low visibility and clouds) requires additional training. This is the next step for many in their flight training. Further developing ones flying skills with instrument training makes every pilot a more proficient and safer pilot. Having the flexibility to fly during less than ideal weather conditions to safely reach your destination makes getting your instrument rating well worth the effort.
Training & Certification Requirements:
You must have at least a current private pilot certificate.
Complete 50 hours of cross-country flight time
Complete 40 hours of actual or simulated instrument time on cross country flight procedures, including one cross country flight of at least 250 nautical miles with 3 different kinds of instrument approaches
Pass written test on instrument flight aeronautical knowledge
Pass Checkride with FAA Inspector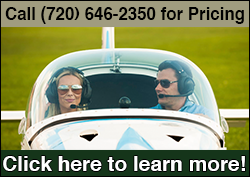 Introductory Flight
Want to discover what it feels to fly? Gift it for a friend, family, or loved one for only $199.00. Call us for more info and to book!