Front Range Flight School Training Programs
Front Range Flight School offers different modes of flight training to help our pilots achieve a broad range of general and commercial aviation goals. We offer affordable, safe, and convenient programs to suit the many different needs of our pilots in training, all at a location that's ideally suited for beginners, pros, and everyone in between.
Below is an overview of our flight training capabilities. If you're not sure where to begin in your own instruction, we recommend our Introductory Flight as the perfect starting point.
Introductory Flight
Want to experience flight for the first time? This is your low cost and no risk way to do it!
Learn To Fly
Want to become a pilot but not quite sure? Read more to find out some of the great benefits (and freedoms) that being a pilot affords you!
Ground School
Flying is great, but not without the wealth of knowledge that the FAA expects you to have. Let us help get you that knowledge!
Private Pilot
This is where your career starts! Learn how to safely and effectively fly the plane and all the knowledge that goes with it!
Instrument Training
Take the next step in your PPL and train to fly in inclement weather and be an even safer pilot!
Commercial Single Engine
Is going into the airlines or otherwise flying professionally your goal? Learn more about our Commercial Pilot Training program!
Multi-Engine Training
Learn how to fly a multi-engine airplane!
Certified Flight Instructor
Have the talent to teach? Want to show others how to fly safely and properly? Our Certified Flight Instructor program is for you!
Certified Flight Instructor Instrument
Want to teach others how to fly in weather conditions safely and properly and make pilots even safer? Our Certified Flight Instructor Instrument program is for you!
Mountain Flying
There's no better way to view the majesty that is the Colorado mountains safely in the air than with a Mountain Flying Certification!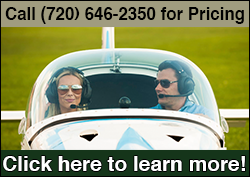 Introductory Flight
Want to discover what it feels to fly? Gift it for a friend, family, or loved one for only $199.00. Call us for more info and to book!