Front Range Flight School Fleet
With our fleet of Cessna 172N training airplanes, multi-engine, high performance aircraft, and our RedBird full motion flight simulator, we have the right fleet for those that are training or want to rent an aircraft for that perfect flight with friends and family.
For our Cessna 172N training airplanes fleet, we have listened to our members and students and are investing in the fleet by equipping all of them with identical avionics and panels. By doing this, our student pilots can easily move from one particular 172N to another for training without having to re-learn any of the avionics or spend their precious training time adjusting to a new layout of the panel. With dual G5s and IFR capabilities quickly rolling out to this portion of the fleet, all of our 172N aircraft are not only a pleasure to train in but will offer the technology that they need to succeed.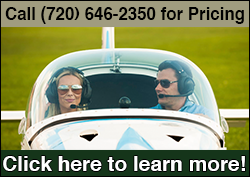 Introductory Flight
Want to discover what it feels to fly? Gift it for a friend, family, or loved one for only $199.00. Call us for more info and to book!