If you are a pilot in Colorado, you'll want to consider mountain flight training. There's no better way to view our state's natural majesty and you'll learn the skills needed to enjoy flights over mountain peaks, high deserts and the other geological wonders of Colorado. This enhances your basic training and gives you access to a whole other level of awareness as a pilot.
Training & Certification Requirements:
You must have at least a current private pilot certificate
Consists of 4 hours of Ground School Training
Consists of 4 hours of Flight Time in the Mountains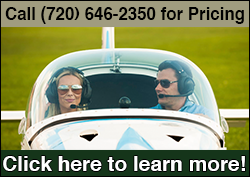 Introductory Flight
Want to discover what it feels to fly? Gift it for a friend, family, or loved one for only $199.00. Call us for more info and to book!